A thermogel is a polymer solution which exhibits the property of transitioning between a liquid and a firm gel during temperature transition. A common-type of thermogel would be one which solidifies upon cooling. An example of this is the ever popular dessert gelatin. For these types of gels, cooling causes polymer chain-entanglement thus forming a solid.
However, for depot-drug-delivery applications, typically we are working with the opposite kind of gel which is one that solidifies upon heating. The benefit of this is that a cold solution can be administered to a patient and then transitions into a solid gel inside the patient. This occurs as the polymer 'dewaters' at increased temperatures, transitioning from loose micelles into aggregates that gel together.
This can occur within the lower-critical-solubility temperature where a critical concentration of polymer at the right temperature enables a gel to form.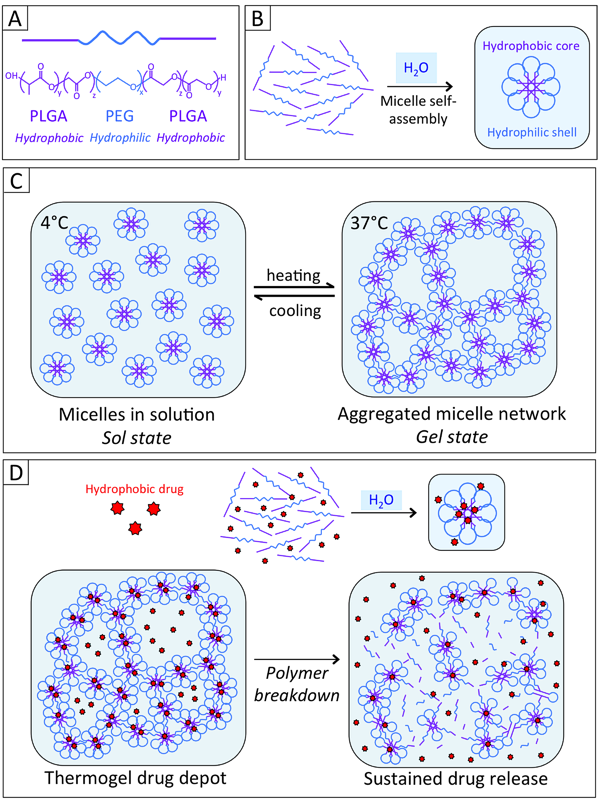 Tri-block thermogel polymer. A. Individual polymer subunit structure. B. When placed in the presence of water, individual polymer subunits self-assemble into micelles with hydrophobic PLGA cores and hydrophilic PEG shells. C. At low temperatures, micelles remain in aqueous solution. As the temperature is raised, cross-link formation between micelles results in formation of a three-dimensional aggregated micelle network D. Hydrophobic drugs can be incorporated into the micelle core and thus solubilized in the polymer solution. Hydrolytic degradation of the polymer network results in slow sustained release of a drug from the micelle cores.
(Image from: Gervais, Kristen J. "Evaluation of a biodegradable thermogel polymer for intraocular delivery of cyclosporine A to prevent posterior capsule opacification." PhD diss., The Ohio State University, 2017.)